Alumni Feedback
"This program changed my life" - Annamarie Olson, Class of 2017
"I am so thankful to you and the other professors in the program who taught us things on the applied side of I/O Psychology so that we could jump into our careers and hit the ground running with the knowledge and skills we learned in the program." - Athar Naseer, Class of 2017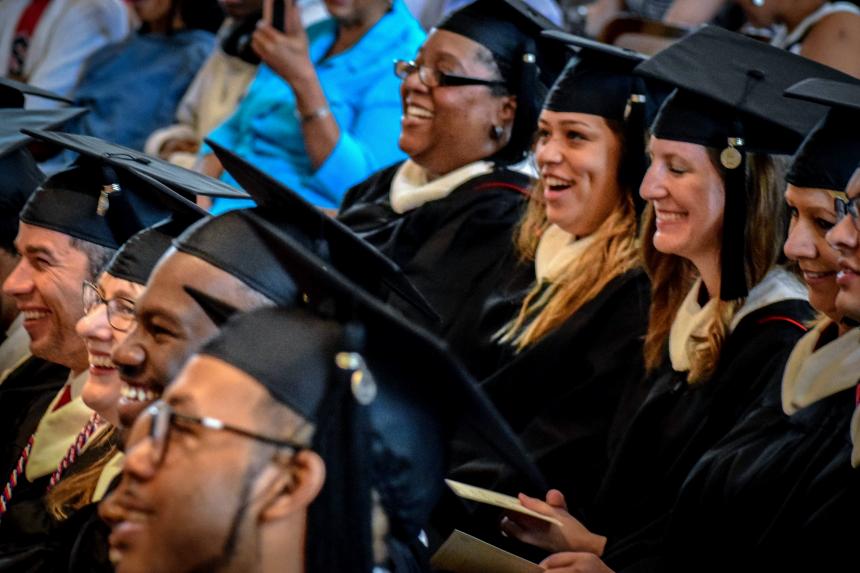 Program Rankings
A series of studies of I-O Master's programs published in 2018 by the Society for Industrial and Organizational Psychology (SIOP) ranked UGA's IOMP among the top in the nation out of 157 Master's programs affiliated with SIOP. These rankings highlight the applied focus of our program and the ability of our alums to provide immediate value to organizations relative to other I-O Master's programs. This is especially impressive given that the measurement of several dimensions in these studies favored traditional programs where students attend school full-time and work part-time. Our top rankings by category include:
     #1 Alumni Perceptions
     #1 Learning Practical Skills
     #18 Overall Student Perceptions
Links to relevant studies: Alumni & Students. The UGA IOMP was also ranked the #3 Most Affordable Top-Ranked Master's Program in Industrial-Organizational Psychology in 2018.
Flexibility & Pace
The UGA Professional I-O Master's Program (IOMP) is specifically designed to meet the needs of working professionals who desire to pursue graduate education while continuing to work.The program is structured with a blended format that combines distance and classroom learning. Students only meet in-person five times each semester. These class sessions are delivered on weekends at UGA's Gwinnett Campus on Friday afternoon from 3:30 to 7:00 and again on Saturday from 8:30 to 4:30.
Did you know? A 2019 article on CNBC listed I-O Psychology as the #1 career field worth going back to school for, even after the age of 40.
Practical Expertise
Half of the courses in this program are taught by talented, experienced practitioners from Atlanta area businesses and consulting firms. This includes HR executives, managing consultants, and independent business owners. The remaining courses are taught by faculty from the world-renowned UGA I-O PhD program (recently ranked #2 in the country in I-O research productivity).
Semester-long course projects are frequently conducted within organizations around Atlanta and include such focus areas as competency modeling, coaching, assessment development, and data analytics.
Career Advancement
I-O Psychology has taken on an increasingly strategic dimension in the world of business and was recently identified by the Bureau of Labor Statistics as being one of the fastest growing occupations through 2022 and as having one of the Top 10 highest paying salaries.
At UGA, our students join a massive network of alumni from both the PhD and Master's programs who work as practitioners throughout the country. This combined with the increasing demand for this career field creates frequent opportunities for collaboration and growth. Alums from our I-O Master's program have been hired by:
Google
Mercedes-Benz
Booz Allen Hamilton
Deloitte Consulting
Boston Consulting Group
U.S. Customs and Border Protection
Chick-fil-A
The Home Depot
ADP
Novelis
KPMG
And many more... including alums accepted to PhD programs at UGA, University of Wisconsin and The Wharton School at Penn.