Deadline for Fall 2023: 
April 5th, 2023
You must submit the following application materials for the IOMP via the online system:
UGA Graduate School online application

Resume or Curriculum Vitae: Clearly detail your work history, education, and other achievements.

Statement of Purpose:  Provide a statement of no more than two pages in length on why you want a graduate degree in this field, what you want to get out of the UGA program, and what you hope to achieve over your career.

Letter(s) of Recommendation: Submit name(s) and email address(es) via the online application. The system will send an email requesting those individuals to upload their letters. You can submit names for up to three recommendation letters. Submitting more than one recommendation letter can strengthen your application.

Transcript(s): One unofficial transcript from each university you've attended should be included as part of your online application. Unofficial transcripts not submitted as part of the online application must be mailed hard copy only to the UGA Graduate School.

GRE Scores: Submit your Verbal, Quant, and Analytical scores. A Psychology Subject test score is not required.
GRE Waiver: If you have more than 5 consecutive years of full-time, professional work experience AND either a previously earned graduate degree from an accredited university or a cumulative undergraduate GPA above a 'B' average, you may request a waiver of the GRE requirement. To request this waiver, email frostb@uga.edu with your resume, unofficial transcript(s), and a brief explanation for your request.
International Applicants Only:  
The graduate school requires international applicants, immigrants to the U.S., and permanent residents of the U.S. whose native language is not English and who have not received a bachelor's degree from a university in which all instruction is in English to submit a valid TOEFL (or equivalent) score. Only official TOEFL (or equivalent) scores less than two years old will be accepted. For further information, please refer to the Graduate School English Language Proficiency Requirements or to www.toefl.org to register for the test.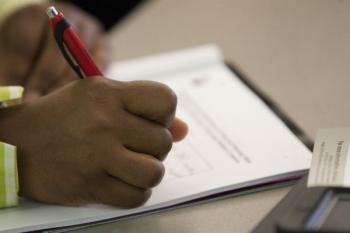 Campus Location: University of Georgia Gwinnett Campus, 2530 Sever Road, Lawrenceville, GA 30043