Admission
To be admitted to the program, an applicant must be endorsed by a faculty member (likely to become the student's Major Professor), and then approved by the faculty of the Behavioral and Brain Sciences Program, the Department of Psychology, and finally the Graduate School. Students who are interested in the work of a specific faculty member are encouraged to send an introduction email. Selection is based on the match between a student's research interest and that of the potential Major Professor. Criteria considered for admission include previous research experience, letters of recommendation, prior academic record, and GRE scores. A prospective graduate student visit day is held one time per year by invitation.
Applications must be submitted to BOTH the Graduate Coordinator of Psychology and the University of Georgia Office of Graduate Admissions. Applications to the Behavioral and Brain Sciences Program must be received by December 1 to be guaranteed full consideration. Click here for more on Psychology graduate admissions.
Financial Assistance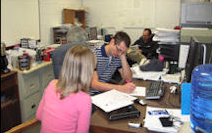 Upon admission to the Behavioral and Brain Sciences Program, students are typically considered for one of a number of forms of financial support. Students are most commonly supported by Teaching Assistantships (TAs), which are determined by the needs of the Department and assigned by the Associate Department Head and Graduate Coordinator. Students who have Bachelor's Degrees serve as TAs for an instructor. Students with Mater's Degrees may teach their own classes. More limited opportunities for Research Assistantships (RAs) are available, which are funded by a faculty member's grant, or via competitive University-wide Fellowships awarded through the Graduate School. Students are encouraged to generate and submit applications for their own grants such as the National Institutes of Health Kirschstein Predoctoral Individual National Research Service Award (NRSA), National Science Foundation Graduate Student Fellowship Program (GSFP).
In recent years the Department has been successful in supporting all of its graduate students over all academic years of study. Students may also work directly with the University's Office of Student Financial Aid.
BBS Core Research Areas
The Behavioral and Brain Sciences Program Faculty maintain wide-ranging and diverse research programs that are integrated through collaboration with focus in the following areas: Developmental, Health Psychology, Neuroscience, Social – Personality, and Vision Sciences.  
Selecting a Major Professor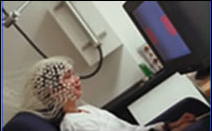 BBS students develop advanced expertise in any of an extensive range of specialty topic areas supported by our excellent faculty. Because advanced graduate education proceeds primarily via an apprenticeship model, the choice of mentors is an important decision in students' graduate careers. Students enter the BBS program with a plan to work with one (or sometimes two) Major Professor(s). 
Master of Science (MS) Degree
The BBS Program does not offer the MS as a terminal degree; however, it does require that each student complete the MS requirements as preparation for the PhD. Exceptions may be granted for students who are entering with a MS. MS requirements include a combination of course work and research hours, as well as a written Master's Thesis and an oral defense.>
Doctor of Philosophy (PhD) Degree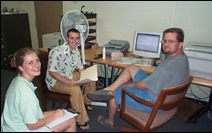 The PhD degree criteria includes a combination of course requirements and research hours. Following the successful completion of written and oral Comprehensive Exams, students complete a Dissertation Prospectus. Following committee approval of the Prospectus, students work to complete their Dissertation which includes an oral defense that is open to the public.
Training Goals
Students leave our program well prepared to conduct scholarly research, think critically, write well, and with quantitative skills. After completing their doctorates, students typically go on to post-doctoral positions, faculty appointments, or other research careers in academia and industry. The UGA BBS Program is proud to have alumni working all over the country, as well as internationally.