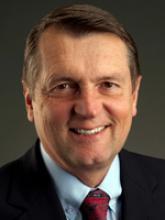 UGA Chapel
We are delighted to host Professor Edward J. Larson as our 2015 Charter Lecturer. Dr. Larson will be speaking on "George Washington and America's Second Revolution" on Thursday, April 23 at 11:00 a.m. in the Chapel.
Following Dr. Larson's remarks, Dean Stefanie Lindquist will moderate a Q&A session between Dr. Larson and a panel of talented UGA Honors students that will probe the complexities of Washington's life. We look forward to welcoming Ed Larson back to campus for the Charter Lecture, and I ask that you mark your calendars for this important University event.
Speaker Bio:
Dr. Larson, University Professor and Hugh & Hazel Darling Chair in Law at Pepperdine University, is a Pulitzer Prize-winning author and a former UGA faculty member. His most recent book, The Return of George Washington, 1783-1789, reached The New York Times best sellers list this spring.