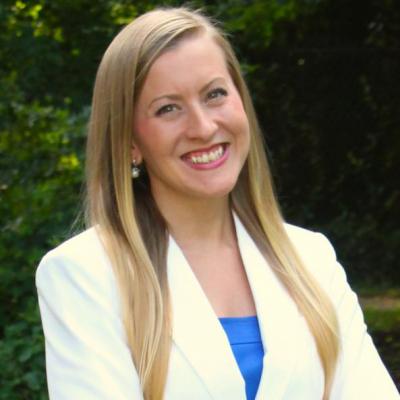 Doctoral Candidate
Industrial-Organizational Psychology Program
Basic Information
Research Interests:
Leadership

(leadership development, collective leadership, leadership emergence)

Teams

(intra- and inter-team dynamics, multiteam systems, emergent team states)

Advanced Methodologies

(network analysis, multilevel modeling, computational modeling)
Biography

Cindy is a doctoral candidate in the University of Georgia's I-O Psychology program. Cindy's research leverages advanced methodologies including computational modeling and network analysis to study complex organizational phenomena. In particular, her work utilizes a multilevel perspective to examine leadership and leadership development across individual-, team-, multiteam-, and organizational-levels. She has served as the lead doctoral student on multiple large-scale research projects, including through collaborations with organizational partners such as UPS, the Center for Creative Leadership, HUMRRO, the Carl Vinson Institute of Government, and the United Way. As the  former Lab Coordinator for both the Leadership Education and Development (LEAD) lab and the Leadership, Innovation, Networks, and Collaboration (LINC) lab, Cindy has led award-winning research projects that have been presented at national and international conferences including the Society for Industrial and Organizational Psychology (SIOP), the Academy of Management, the European Association of Work and Organizational Psychology (EAWOP), and the Interdisciplinary Network for Group Research (INGRoup).
Selected Publications

Selected Publications:

Eby, L.T., Robertson, M., Williamson, R., & Maupin, C.K. (In Press) The development and test of a framework examining the associations between gambling behavior, strain-based gambling interference with work and nonwork, cognitive disengagement, and role performance. Community, Work, & Family.

Cullen, K., Maupin, C. K., & Carter, D. R. (2017). Incorporating social networks into leadership development: An organizing framework and evaluation of research and practice. The Leadership Quarterly, 28, 130-152. **Selected as 2017 LQ Best Paper award winner

Griggs, T. L., Eby, L. T., Maupin, C. K., Conley, K., Williamson, R., Vande Griek, O., & Clauson, M. (2016). Who are these workers, anyway? Industrial and Organizational Psychology Perspectives on Science and Practice, 9, 114-121.

Greer, K. B., Campione-Barr, N., Debrown, B., & Maupin, C. K. (2014). Do differences make the heart grow fonder? Associations between differential peer experiences on adolescent sibling conflict and relationship quality. The Journal of Genetic Psychology, 175, 16-34.

Chapters in Edited Volumes:

Eby, L.T., Vande Griek, O., Maupin, C.K., Allen, T.D., Gilreath, E., & Martinez, V. (2018) A cultures within culture perspective on work and family among U.S. employees. In K. Shockley, W. Shen, & R. Johnson (Ed.s) Cambridge handbook of global work and family.

Media Articles:

Carter, D.R. & Maupin, C.K. (July, 2017). Leadership IS a social network: Implications for security professionals. Invited article: Centre for research and evidence on security threats (CREST) security review (Translational magazine targeting national security professionals in the United Kingdom) https://crestresearch.ac.uk/. Direct link to article: https://crestresearch.ac.uk/comment/leadership-social-network/
Education

Education:

Ph.D. in Industrial-Organizational Psychology, University of Georgia (expected May, 2019)

M.S. in Industrial-Organizational Psychology, University of Georgia (May, 2017)

B.S. in Psychology, University of Missouri (May, 2011)

 
Other Information